Investment Club Tax Printer Software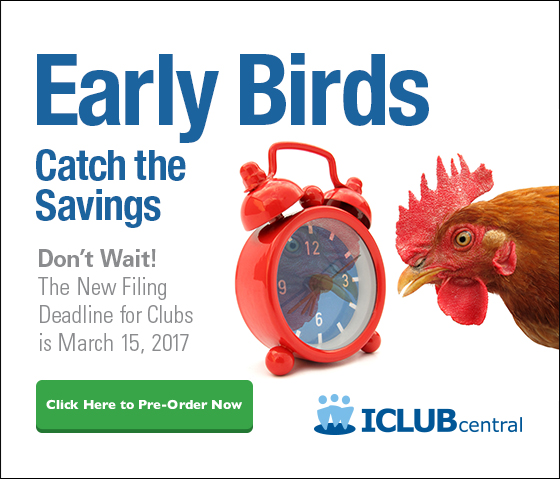 IRS regulations have changed! This year, your club's federal (and in many cases, your state) tax returns must be filed by March 15, 2017. You can get your investment club prepared for tax season the easy way by pre-ordering your Federal and State Club Tax printers from ICLUBcentral - the #1 tax preparation software for investment clubs. And if you order right now you'll save $10 off the regular price! Trusted by thousands of investment clubs since 1989, our Club Tax Printer software makes it simple to file all required IRS and state returns in record time. And if you're not using Club Accounting 3 or myICLUB.com, now's the perfect time to enhance your club's operations with one of these popular solutions.
Pre-order for Club Accounting 3.2
Pre-order for Club Accounting Online at myICLUB.com
Pre-order now and save -- pay just $89.99 if you order before December 31, 2016. StockCentral Members save even more, and pay just $59.99!
Club Accounting 3.2 Tax Printers can be purchased as either a download or as a pressed CD. Club Accounting Online Tax Printers will be accessible under the Taxes tab on your myiclub.com website following purchase.
$59.99 for StockCentral Members: Pre-order Today
$89.99 for Non-Members: Pre-order Today
Join StockCentral for Discounts
To receive discounts on ICLUBcentral software, including the lowest available prices for the 2016 Club Tax Printers, join StockCentral.com today!
---
Our Club Tax Printer Software Has Been Enhanced With These Great Features
Supports large clubs (having assets greater than $600,000) with additional forms required.
Workflow saves user-entered cost basis details from 1090 for sold securities from session to session.
Single-screen questionnaire replaces old step-by-step wizard with streamlined interface that saves details from session to session.
Worksheet aids in preparing constructive ownership form for family clubs.
Plus all the great standard features that makes ICLUB Tax Printer the #1 tax preparation software for investment clubs:
Prints required IRS Forms and Tax Forms for 14 States.
Available for Club Accounting 3 and myICLUB.com.
Investment Club Accounting Solutions Trusted by Thousands of Clubs Since 1989.

…and much more.

---

Frequently Asked Questions about Investment Club Tax Preparation

Does my investment club have to file a tax return with the IRS?

While investment clubs that are formed as general partnerships do not have to pay taxes directly to the IRS, every investment club must file an informational return with the IRS. It doesn't matter how new your club is, whether or not you had any income during the year, whether or not you bought or sold any securities -- you must still file the appropriate forms with the IRS.

What forms do I have to submit?

To file your club's Federal tax returns with the IRS, you'll need to complete three different kinds of forms. Form 1065 is used by General Partnerships (like your investment club) to file their taxes with the IRS. It's what is called a "pass-though" document -- it allows the liabilities of the total tax due to be "passed-through" to the members of the partnership.
Schedule D is part of Form 1065 and covers the Capital Gains and Losses for your club. Schedule K-1 is an individualized report specific to each member of your club covering their individual share of the tax liability. Each member receives their own Schedule K-1 which they must submit to the IRS with their personal tax returns.
ICLUBcentral's Federal Club Tax Printer software includes all sections of Form 1065, and allows you to print out a Schedule K-1 for each member of your club.

What about the state taxes?

To learn more about filing your taxes, visit our Club Tax Printer Support page or the official IRS website.

---

* A special note about "Draft" and "Final" forms: Tax printers are initially released using "draft" forms. Final forms will be released and automatically updated in your tax printer when forms are approved by the IRS and the appropriate state agencies, which could occur as early as mid-January or as late as early March. By installing the draft forms package, you can make sure that the program works correctly and that you have entered the necessary data properly. Then, when final forms are released, you can quickly prepare and print final forms for your club members. You may not prepare your club tax filings before you have received final year-end documents from your club's financial institutions, which by law do not have to arrive until February 15.