Club Accounting 3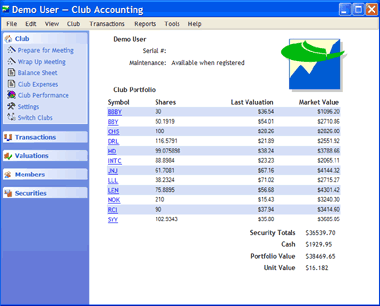 If you've spent any time in an investment club, you'll know that keeping accurate club books is an absolute must. In fact, Club Accounting software is often the first purchase a new investment club makes.
Club Accounting has been helping investment clubs track their finances since 1989! The program features an easy-to-use interface to help you understand your club finances, print reports, share graphs of club performance with club members, and prepare club taxes in accordance with federal tax law. Over fifty thousand copies have been sold to investment clubs. Our latest release, Club Accounting for Windows version 3, offers more than ever before!
With version 3 you get all the rich accounting and support functionality you expect, with these additional features:
New theme-based user interface
Time saving Wizards that walk you through common tasks - like monthly meetings or closing your books for the year
Reconcile accounts feature
Context-sensitive help - just hit F1 anywhere in the program
New accounting engine to 100% match Club Accounting Online
Automatic audit with each transaction
Built in auto-updater to receive the latest patches
Verify your support status instantly
Instant online prices for valuation
Instant stock ticker quotes to evaluate any company
Import from NCA 2 or myICLUB.com online accounting system
Export reports to Microsoft Word, Microsoft Excel, or Adobe Acrobat Reader
Print mailing labels for members
Order Today! Just $169.99

StockCentral Subscribers Save $30!
  $169.99 - $30 StockCentral Subscriber Discount = $139.99

Includes one free year of Club Accounting Maintenance, $64.99/year thereafter.
A one-time purchase of a perpetual additional license and serial number for a Co-Treasurer is $56.99

Purchase on CD or immediate download.

Please note system requirements before purchasing.