Depending on the version of Java installed on a computer, and the security settings used, you may see the following message when trying to view an SSG graph: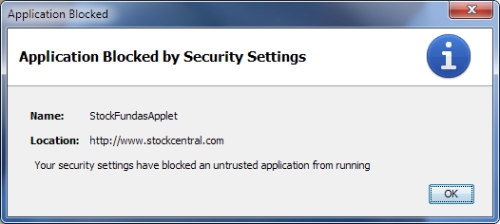 Starting with Java 7 - Update 51, the software made changes to how it handles security on java applications, such as the one we currently use to display the graph on the front page of the ssg from the Take Stock tool.
In order to be able to see the graph again, you'll need to make some changes to the java control panel, as follows:
Close the web browser, and go to Contorl Panels on your computer
For Windows 8, hold down the Windows key, and tap the letter X, then select control panel.
For Previous versions of Windows, go to the Start menu, and select Control Panel
For Apple computers using OS X, click the Apple menu at the top left of your comptuer screen, and then select System Preferences.
From the control panel window, click in the Search box near the top right-hand corner, and type the word java. When the control panel shows up, click to open it.

When the contorl panel opens, click the Security tab, and then click the Edit Site List button.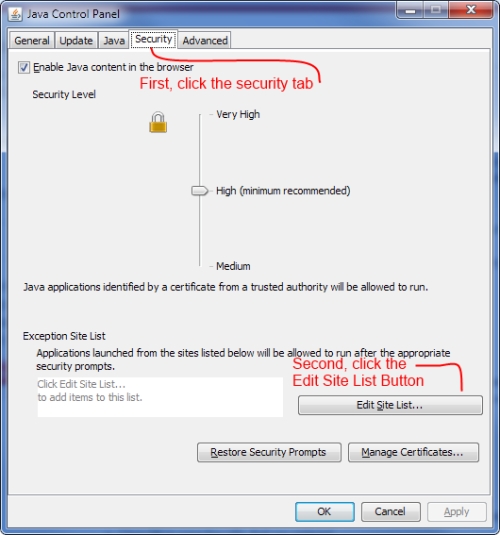 On the Exception site list window, click the Add button.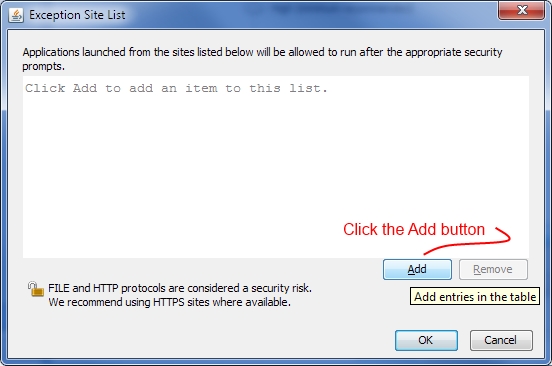 Click in the empty field under Location field to enter the URL.
Example: https://www.stockcentral.com
Click OK to save the URL that you entered.
Click Continue on the Security Warning dialog.
We recognize that the security warning is relatively dire sounding. Considering the FAQ on the java site specifically includes Click Continue on the Security Warning dialog, as one of their standard steps, it seems that they expect a lot of folks to be making this adjustment, and seeing the message.

In this case, the java applet that we use on the stockcentral site is only there to display the graph on the front page of the SSG; it does not access or transfer any personal information. As long as you do not turn down the default security setting on the java control panel itself, or start adding sites you are unfamiliar with, there shouldn't be any actual risk involved.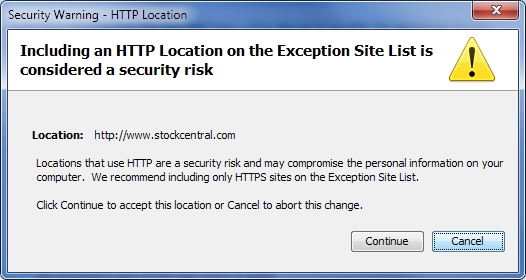 Click OK on the Java control panel, the re-open your browser, and try the site again.
Note: When you return to stockcentral.com and try the graph, some browsers will still display a security warning for the site; in most cases you will need to click Run on the warning in order to continue, and view the graph
These steps (minus the specifics about stockcentral.com) can also be found, along with further explanations of using the Java control panel on the java.com web site at:
https://www.java.com/en/download/faq/exception_sitelist.xml