When entering a serial number, and trying to register, a message comes up stating that the serial number is invalid.
The first thing will be to double-check the serial number on your cd/dvd case, or your order confirmation, and make sure that it matches what you are typing in. There are a few things to keep in mind when entering your serial number:
All ICLUBcentral serial numbers follow a specific format, with three letters at the start, then four numbers followed by a dash, and then six numbers followed by three more letters:
ABC 1234-123456XYZ
When entering the serial number, the dash does not need to be typed in.
All of the letters are capitalized
Sometimes the last three letters will include a letter 'O', 'L' or 'W'; we have seen cases where these are mistaken for a Zero, a letter ' i ', or two capital V's
If you have confirmed that the serial number you are entering matches the one from your order, it is possible you need to adjust one of the region/language options on your computer.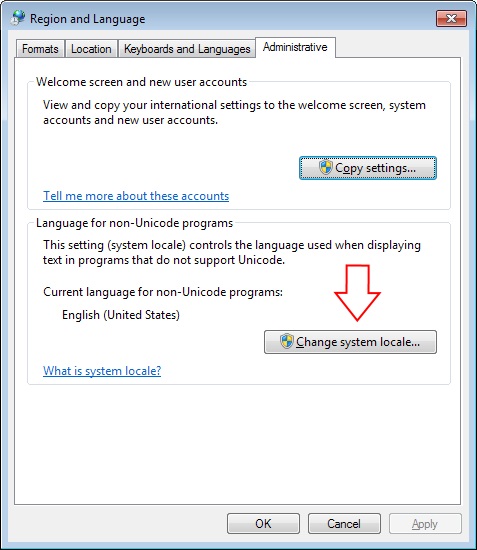 For Windows 7 or Windows 8, start by going to the Control Panel, and clicking on the Region and Language -or- Region icon.
In Windows 8, the control panel can be opened by holding down the Windows key, tapping the letter X, and then selecting Control panel from the menu that comes up.
In the window that comes up, click the Administrative tab, and then Change System Locale. This will open a new window, Region Settings. Make sure the drop-down menu is set to English (United States), and click OK to return to the previous window. Click OK here to save any changes.
Once this is done, re-start the computer, and try registering the program again. If the error happens again, please contact support through our support ticketing system at https://www.iclub.com/support/new_ticket.aspx