The best way to check if your copy of Windows recognizes that Club Accounting is installed on the computer is to use the Programs and Features control panel.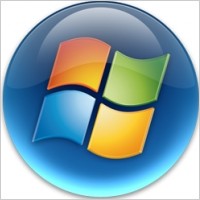 To check on Windows Vista and 7, click the Start logo button that is usually at the bottom left hand corner of the computer screen. It will usually be a Blue circle, with Red, Green, Blue and Yellow patches, similar to the image to the right.
With the Start menu open, click Control Panel, on the right hand side of the menu. From the new window that opens, look for and click on Programs and Features, -or- Uninstall a program. This will bring up a list of all the programs Windows recognizes as being installed.
To get to the same place in Windows 8, hold down the Windows logo key on your keyboard, and tap the letter X; from the menu that comes up, select Programs and Features.
If you find an entry for Club Accounting 3, then Windows recognizes that the program is installed.
Club Accounting may open, and largely function correctly even if Windows does not recognize that it is installed, but not having a listing in this control panel makes it more likley that you will encounter errors with making backups, downloading program updates, previewing, or printing reports. If you do not see a listing for Club Accounting, we strongly suggest that you use the steps in FAQ 1278 at: https://www.iclub.com/faq/index.php?solution_id=1278 which describe how to install Club Accounting if the program is already on the computer, but is not working. The only thing you would not need to do that is described in FAQ 1278 is try to un-install Club Accounting first.