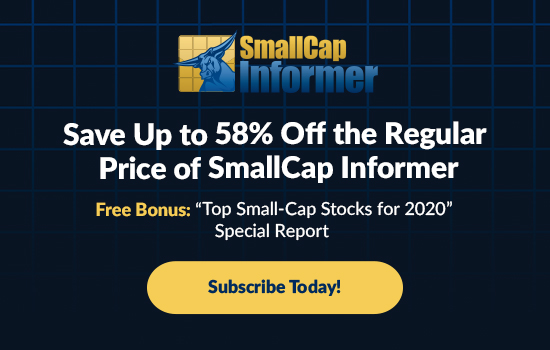 Save Up to 58% Off the Regular Price of SmallCap Informer
Subscribe Today for A Limited Time Rate!

With the S&P 500 up more than 28% in 2019, the performance of small-cap stocks has been largely overlooked. But with a 20.3% gain in the S&P SmallCap 600 during the year, small company stocks turned in a very strong performance as well.
The SmallCap Informer stock newsletter is building a reputation for superior opportunities in the small-cap market. Check out some of our big winners as of 12/31/2019, such as:
Five Below +209.1%,
ICON plc +168.3%
Skyworks Solutions +355.2%
SS&C Technologies +217.8%
When you subscribe today you will receive:
Twelve monthly issues, each with two small company stock recommendations.
Full access to our Subscribers-Only website.
Email alerts when breaking news is available.
Invitations to our Subscribers-Only webinars.
Our Stock Idea Journal, a handy pocket-sized notebook in which you can record interesting stocks you come across in your daily activities. This simple tool can help cultivate a methodology of awareness when it comes to picking individual stocks, and provide a "wish list" of stocks that you can consider when the market provides you with opportunities. Your journal will be mailed to you after subscribing.
Our "Top Small-Cap Stocks for 2020" Special Report. This PDF provides an actionable list of our best picks for the coming year – and beyond! Culled from our current coverage list of 50 companies, this Special Report will help kick-start the small-cap component of your personal stock portfolio. Your report will be available to download from the subscriber section after subscribing.
Subscribe Today for These Limited Time Rates:
Online Subscription for $84/Yr (Regularly $199)
Print Subscription for $299/Yr (Regularly $299)
---
The ICLUBcentral Ultra Bundle Is Your Path to Maximum Savings
Subscribe to the nation's most highly rated investing publications and tools with ICLUBcentral's Ultra Bundle. The Ultra Bundle allows you to package various publications with multiple-year subscription terms into one huge bundle of savings. The more products you select and the more years you extend your subscription, the bigger your discount will grow!
To get started, select the products for your bundle and then select your desired expiration date. Our Ultra Bundle calculator will then determine the best possible price for your package. We'll automatically match up the expiration dates of your current subscriptions and pro-rate any months to get everything in sync.