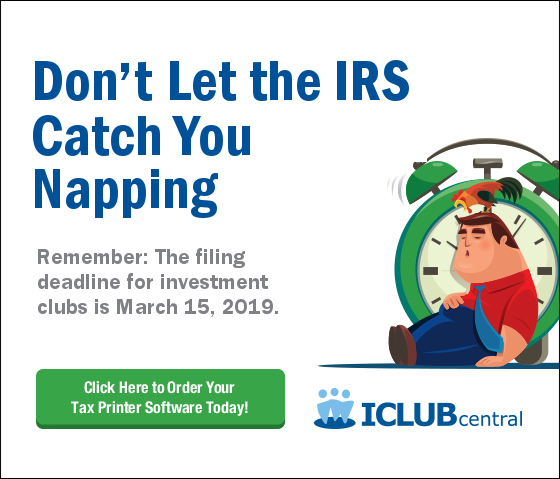 2018 Federal & State Club Tax Printers Released & Available for Purchase
Download your Club State Tax Printer for Club Accounting 3.2
Download your Club Federal Tax Printer for Club Accounting 3.2
Select the Taxes tab in your myICLUB.com web site.
Current Form Status:
Federal Forms: FINAL
State Forms for AZ, CA, CO, GA, IA, IN, MA, MD, MN, MO, NY (e-File only), WI: FINAL
State Forms for NJ, PA: PENDING
New for 2018: In addition to IRS e-Filing of partnership tax returns, this year ICLUBcentral has added e-Filing for New York Stateat no additional charge. With e-Filing, there's no need to print and mail your return — with a click of a button, your return is automatically and securely submitted to the IRS or New York State server. You'll receive a confirmation when your return is accepted by the IRS or state establishing the time and date of your timely submission. e-Filing is included free with your myICLUB Club Federal or State Tax Printer.
Note that we no longer offer shipped CDs for the Club Accounting 3 Tax Printer -- you must download the installer after purchase. Users of Club Accounting 3 should consider switching to myICLUB.com to take advantage of e-Filing and all the other great benefits of myICLUB.com.
Remember, IRS Regulations have changed, and your club's 2018 return is due March 15, 2019. Many states are using this new IRS deadline as well. Avoid the rush. Get your investment club ready for Tax Season early and order your Federal and State Club Tax Printers from ICLUBcentral today — the #1 tax preparation software for investment clubs.
Order for Club Accounting 3.2
Order for Club Accounting Online at myICLUB.com
Order now for just $99.99. StockCentral Members save $10 off your purchase! Join StockCentral.com today.
Club Accounting 3.2 Tax Printers can only be purchased as a download — we no longer ship pressed CDs. Club Accounting Online Tax Printers will be accessible under the Taxes tab on your myICLUB.com website following purchase.
---
The ICLUBcentral Ultra Bundle Is Your Path to Maximum Savings
Subscribe to the nation's most highly rated investing publications and tools with ICLUBcentral's Ultra Bundle. The Ultra Bundle allows you to package various publications with multiple-year subscription terms into one huge bundle of savings. The more products you select and the more years you extend your subscription, the bigger your discount will grow!
To get started, select the products for your bundle and then select your desired expiration date. Our Ultra Bundle calculator will then determine the best possible price for your package. We'll automatically match up the expiration dates of your current subscriptions and pro-rate any months to get everything in sync.