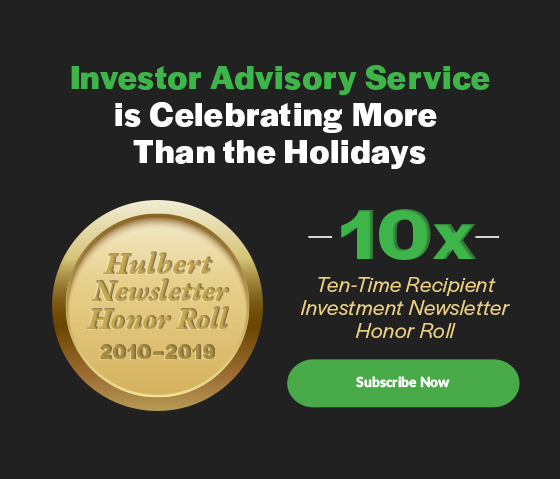 Investor Advisory Service is celebrating a decade of success on The Hulbert Investment Newsletter Honor Roll. In appreciation of our continued success, we're offering $140 off a one-year subscription. You'll also receive the Stock Idea Journal to keep track of all of the stock tips you'll find with your new subscription.
Here's what you'll get with your subscription to IAS:
Three new stock recommendations each month.
In-depth profiles on recommended companies.
Economic and market trends and what they mean to YOU.
Updates including email alerts of company breaking news and sale recommendations.
Company news as it pertains to the stocks.
New subscribers get one year of Investor Advisory Service for only $159, plus a FREE Stock Idea Journal. Includes 12 online editions of IAS and includes access to the exclusive subscriber's only IAS website (regularly $299).
---
The ICLUBcentral Ultra Bundle Is Your Path to Maximum Savings
Subscribe to the nation's most highly rated investing publications and tools with ICLUBcentral's Ultra Bundle. The Ultra Bundle allows you to package various publications with multiple-year subscription terms into one huge bundle of savings. The more products you select and the more years you extend your subscription, the bigger your discount will grow!
To get started, select the products for your bundle and then select your desired expiration date. Our Ultra Bundle calculator will then determine the best possible price for your package. We'll automatically match up the expiration dates of your current subscriptions and pro-rate any months to get everything in sync.