---
Come visit with members of the ICLUBcentral team at the Better Investing National Convention in Norfolk, Virginia, October 31 to November 2. You'll find us in the Convention's new Software Central area, where we'll be demonstrating NAIC Software, answering your questions, and generally making ourselves available for you. In addition, we'll have several scheduled presentations a day, taught by Rich Beaubien and other ICLUBcentral staffers.
The BI Convention offers a host of seminars and special events to help you reach the "next level" of investing acumen -- wherever you are now. And the team from ICLUBcentral will be there throughout, to resolve any questions you have and to help you get the most out of your software tools. With the benefit of dozens of Investor Relations representatives, the National Investor Assocition's "walk-in SSG clinic," educational seminars, and nationally renowned speakers, the BI Convention is you an outstanding opportunity
For more complete information and registration, please see http://www.better-investing.org/biconvention.
---
FAQ: New IAS Pricing Policy

Since our announcement in the last issue of ICLUB News that the current subscription price for the Investor Advisory Service was available only until October 31, we've received many requests for more details about this offer. This FAQ attempts to answer the more common questions, but if you have another question. please feel free to email ias@iclub.com or call us at 617-661-CLUB. We'll be more than happy to answer your question.
What are the details of the pricing change?
A full subscription to the Service, which includes both the print and online editions plus email updates between issues, will rise from the current price of $139 to the new price of $399 after October 31, 2003. An online subscription, which currently costs $115, will rise to $299 after October 31. Anyone can subscribe at the old prices until October 31. If you subscribe at the old prices, you'll be able to renew at the same level in future years.
I'm already a subscriber but don't want to pay more for my subscription.
Don't worry! Current subscribers to IAS are "grandfathered" in at the old rates of $139 for the full print & online subscription or $115 for the online-only subscription. As long as you renew your subscription before it expires, you will be able to renew at these rates in future years. So if you just renewed a couple months ago, you don't need to renew now to take advantage of the old rates. And same for the next year. And the year after that. The old rates are locked in for you as long as you renew on time. We will send you email and (for print subscribers) paper renewal notices well in advance of your expiry to make sure you know when to renew.
I'm not currently a subscriber but I'd like to subscribe at the old prices? Can i do that? How?
Anyone who subscribes before October 31, 2003 can subscribe at the old rates of $139 for the full print & online subscription or $115 for the online-only subscription. As long as you later renew your subscription before it expires, you will be able to renew at these same rates in future years.
I'd like to subscribe for multiple years at the current rate. Do you offer a multi-year subscription?
Yes. We offer one-, two-, and three-year subscriptions. You can print out an order form at www.iclub.com/ias or you can subscribe online at www.iclub.com/ias/buy. Both options allow you to use either check or credit card.
Where can I get more info? How do I subscribe?
General information about IAS is available at www.iclub.com/ias. This page includes links to a sample issue and more. With more specific questions, you can write to us at ias@iclub.com. To purchase a subscription to IAS, please visit www.iclub.com/ias/buy or print out an order from at www.iclub.com/ias.
I'd like to have IAS manage my portfolio. Do they do that?
The Investor Advisory Service is not a registered money manager and does not offer individualized investment advice. However, IAS is written by the professional investment advisors at the firm of Seger-Elvekrog. These individuals, who include Better Investing contributors Scott Horsburgh, Maury Elvekrog, and Ralph Seger, all have earned the Chartered Financial Analyst (CFA) designation, and all are actively involved in researching companies and helping individuals manage their portfolios. For more information about their services, please email info@seger-elvekrog.com or call 800-449-6970.
---
In the February 2003 issue of BITS, I reviewed the updated version of NAIC Stock Prospector. In the article I mentioned that Prospector – while a powerful tool – has a couple of gaps. For me, the biggest gap was the lack of support for sector screening. Now, a small group of volunteers has filled in that gap. This article is a "how-to" aimed at owners of Prospector who may want to perform sector screening.
What Is Sector Screening Anyway?
Sectors are broad categories of stocks, each containing a number of industries. For example, regional banks is the name of an industry, which is just one of many in the financials sector, that includes other industries such as life and health insurance, thrifts and mortgage finance, reinsurance, consumer finance, and more. Here's a list of all the sectors as defined by Standard & Poor's:
Consumer Discretionary
Consumer Staples
Energy
Financials
Health Care
Industrials
Information Technology
Materials
Telecommunication Services
Utilities
Prospector already makes it easy for you to screen for stocks within a given industry. What's not easy – in fact, what was hitherto impossible – is to screen for stocks within a given sector.
Why Would I Want To Screen by Sector?
In the Standard & Poor's industry and sector classification system used by NAIC's Online Premium Services (OPS) data files, the 10 sectors noted above are broken down into about 130 industries. When you're trying to diversify your portfolio, which would you rather use to review your portfolio for diversification – 10 sectors, or 130 industries? Sectors are a much easier way to get a handle on the whole thing.
In my August 2002 BI cover story "A Framework for Portfolio Management", I suggested that a club dedicate one meeting a year to a focused portfolio review. So let's say you did that and found that you have no holdings in a sector that you would like to be invested in. A great next step would be to use normal screening techniques to find the best looking stocks just within that sector, and schedule stock studies for the top few companies that turned up.
Or perhaps you want to challenge an existing portfolio holding, but if possible you would like to replace that stock in your portfolio without making major changes to your sector diversification. Again, screen for top candidates within that same sector.
How To Do It?
So the next question is the one that the Wicked Witch asked herself after she captured Dorothy and Toto: How to do it? "These things must be done delicately, my dear!" Fortunately for us, no flying monkeys are required, but it does take a little effort.
Step One: Download and Unzip
First, download this file. It's a zipped file, meaning that it contains several files that are compressed together as a single, smaller file. You'll need a special tool to open this up and get access to the files inside.
Zipped files are very common in the Internet world, so it's a helpful thing for you to learn anyway. If you want to zip files together yourself, you may want to purchase a tool to do that, such as WinZip or PKzip. If all you want to do is unzip files once in a while, however, you can download a free tool to do so off the Internet.
Joe Craig wrote a great "going online" article in the June 2000 issue of BITS. Given that we measure Internet time in dog years, you might think that his article would be completely out of date, but a lot of what's there is still applicable and is clearly written. Joe includes links to three zipping-unzipping tools towards the end of that article.
Here's a more complete list of zip tools that you could consider:
Most of the above tools offer a free unzipping tool, though in some cases you have to look around to find it. I personally purchased a license for WinZip; I haven't evaluated the other products.
It's also possible that your computer came with an unzipping tool already installed; so the first thing to try after downloading this zip file is to just double click it and see what happens.
When you extract these files, save them in your Prospector directory. For most people, this will be C:\Program Files\Prospector. What you'll find is a set of 10 files that end with a .qdf suffix, plus a little text file that summarizes how to use them.
Now Let's Do Some Sector Screening
Okay, time to start up Prospector. If it's been more than a day or two since I last used the tool, I always start by clicking on the big import button at the left side of the toolbar, to ensure that I'm using the most recent data; the underlying OPS data is updated about once a week.
Now click on the Criteria button on the toolbar; it's the one with the picture of hands holding a gold pan. This button is typically shown in two places; clicking either one will get you to the same place. The result should be a dialog box that looks something like Figure 1.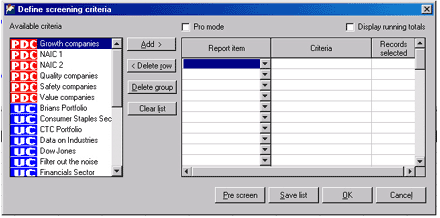 Figure 1

What you're about to do is to load some information that will show up in the tabular portion of the dialog box in Figure 1. In fact, it isn't necessary for you to look at this dialog box ahead of time -- I just wanted you to see what it looked like before you loaded up the query definition file. It's not necessary to clear the list above beforehand.
Load a Sector-specific Query Definition File
Now click on the File menu, and select "Import query from file." The first time you screen for a given sector, you'll have to first load up the query definition file (.qdf) for that particular sector. Let's screen for stocks in the consumer discretionary sector, just as an example to work through together. So in the "Import query from file" dialog box, click on the file named "Sector - Consumer Discretionary.qdf," and then click the Open button.
Now click that same Criteria button to get back to the "Define screening criteria" dialog box again. Voila! That tabular area is now filled out with all of the industries in the consumer discretionary sector.
One more step and then you're ready to start screening within the sector. Click on the "Pro mode" checkbox at the top-middle of the dialog box. The result should be a little check mark that shows up in that white box, and one new column is added to the tabular area below. You don't need to worry about what this means (unless you want to); just make sure you do it each time you use one of the sector screening criteria. Now your dialog box should look something like Figure 2.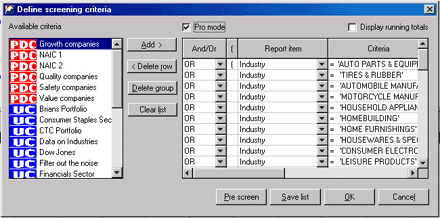 Figure 2

Before you do anything else, click on the Save List button, and choose a name for this criteria set (for example, you might call it "Sector - Consumer Discretionary"). Once you do that, it will appear as one of the blue "UC" (user criteria) items at the left side of your dialog box, from now on. Note that the red "PDC" criteria sets refer to pre-defined criteria. These are sort of built-in to Prospector. You can add (or delete) user criteria whenever that suits your fancy.
In this example, what you see in the tabular area of the dialog box are 31 rows, each containing the name of one of the industries that S&P says is in its consumer discretionary sector.
By the way, a very nice benefit of this method of sector screening is that it's very easy to screen within just a subset of a sector. For example, maybe you just don't want to consider companies in the automobile manufacturing industry -- simple, just click on that row to select it, and then click on the "Delete row" button.
Now Just Screen as You Normally Would
From here on you just screen as you normally would in Prospector. For example, you could click on the pre-defined criteria named NAIC 1, and then click the Add button. If you then scroll down at the far right of the dialog box, you'll see that those criteria have been added to your initial sector criteria.
When sector screening, I always like to start with the sector list, and then add other criteria from there. I often use the "Display Running Totals" checkbox to see how many companies are left after a given criteria is added. Then when you've got your criteria set the way you want them, click OK and then click on the Query button (the one with the picture of the running horse) to display your results.
Doing this in mid-June, the NAIC 1 criteria set applied just to the consumer discretionary sector resulted in five companies: Kohl's (KSS), Lowes (LOW), Ebay (EBAY), Cheesecake Factory (CAKE) and Galyans Trading Company (GLYN).
I've heard of and studied most of the above in the past, but I had never heard of Galyans Trading Company. Maybe it won't turn out to be something I'm interested in, but it's showing up in some pretty good company. It's likely to be at least worth a look. And that's exactly what a screening tool is good for -- turning up potential stock study candidates, stocks that appear to be worth a look.
Special Thanks To Puget Sound
Special thanks to my chapter president, Bill Skelly, who is also a recent addition to NAIC's national Computer Group Advisory Board. I put out a request on the NAIC Compuserve Forum for people to help me build a complete set of sector screens and Bill was the first to jump in and volunteer.
In fact it turned out that all three of us who worked on this are part of the Puget Sound chapter. This wasn't a chapter project, these were just the guys that responded when I put out the call.
The other volunteer was Jim Thomas, whom many will recognize for all of his contributions to making computerized investing easier and better. Jim's help was invaluable because – as always it seems – he found a better way of completing our work, and in a way that caught potential errors, and will make it easy to update and maintain. Jim's on my short list of people who I want to be when I grow up.
On the matter of updating and maintaining files, note that the .qdf files are subject to change if and when Standard & Poor's should decide to update or change its industry and sector definitions.
Probably the best way to ensure you have the most current set of .qdf sector screening files is via the NAIC Forum on Compuserve, in the files area titled "Prospector Data."
Try It Out
The sector screening process we illustrated might sound a little complicated, but try working through it just once; hopefully it will make sense.
If it doesn't, consider connecting with volunteers via either the i-club-list (http://lists.better- investing.org/cgi-bin/lyris.pl? enter=i-club-list), or the NAIC Forum on Compuserve (http://old.better-investing. org/computer/cisnaic.html).
If you can summarize your problem clearly, with details, chances are that someone will help you through it. Note that this isn't limited just to help on Prospector issues.
Once you've got the sector screening process down, I think you'll find that Prospector will become an even more valuable tool, not just for finding stocks to study, but as a partner in managing your portfolio.
This article was reprinted from the August 2003 BITS. An NAIC member since 1994, Brian Lewis is an associate director of the NIA board, a director of the Puget Sound Chapter, and a frequent contributor to Better Investing and BITS. He's also a founding member of NAIC's Online Investor's School and has presented a number of classes online.
---
Read past newsletters, subscribe, or unsubscribe at:
http://www.iclub.com/newsletters/
Copyright 2003 ICLUBcentral Inc. All rights reserved.